Automated Liquid Handling

Revvity has been providing liquid handling solutions for over 40 years to help labs accelerate their science. As a pioneer and innovator in this industry, we offer a comprehensive line-up of liquid handlers to automate common to complex laboratory workflows.
From benchtop application-specific workstations to complex customized solutions, our liquid handing portfolio is supported by our industry experts to ensure customers receive solutions that solve their needs and get up and running quickly.
With a wide portfolio to choose from, we can provide a liquid handling solution tailored to fit your individual requirements in a timely fashion.
Why do I want to automate my liquid handling?
Pipetting is a necessary but tedious task in the lab and when done manually for any length of time, errors can easily occur. Utilizing a liquid handling robot can minimize errors, reduce variability, improve records and tracking, reduce hands-on time, conserve reagents, and increase throughput and reproducibility. Automated liquid handling systems can drastically reduce the workload of researchers, allowing them to focus on more valuable contributions to advance your science.
What do liquid handlers do?
Robotic liquid handlers are ideal for automating such applications as NGS, library prep, high throughput screening, primary or secondary screening, protein purification, nucleic acid isolation and quantification, primary sample reformatting, blood fractionation, assay development and optimization, DoE, biobanking, compound storage, cell line selection, bioanalytical sample preparation and qPCR sample preparation.
From benchtop application-specific workstations to complex customized integrated solutions, our liquid handing portfolio supported by our industry experts can help accelerate your science.
For research use only. Not for use in diagnostic procedures.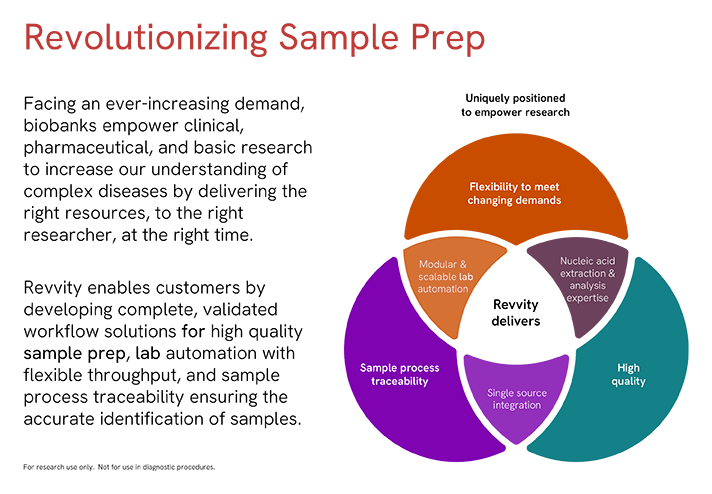 What technology do Revvity liquid handlers offer?
Highly accurate dispensing
Dynamic volume range
Reformatting, from 1 to up to 96, 384 and 1536 well plates
Flexible throughput and capacity
Barcode scanning of input and output labware
Integrated gripper for handling labware on and off deck
Integrated thermocyclers, shakers, temperature controllers
Integrated magnetic or solid phase extraction devices
LIMS integration
Please note that product labeling (such as kit insert, product label, and kit box) may be different compared to the company branding. Please contact your local representative for further details.